Layna D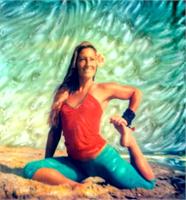 Layna is passionate about living a healthy, well-balanced life full of meaning, growth and an abundance of love. Through every practice Layna will guide and encourage you to move within the intelligence of your own unique body, to enjoy the physical challenge and the peaceful energy yoga brings into our lives on and off the mat. Layna's love of fitness began in her living room at a very young age, rocking out to Jane Fonda's exercise videos! She started her teaching career at University of Massachusetts with aerobics and Pilates. After studying Iyengar yoga for a year abroad in Hawaii, Layna quickly felt this alignment based practice deepen her love for the mechanics of the body. Layna has since completed 300 hours of training with Baron Baptiste, 500 hours with Yoga-fit, and has studied with Annie Carpenter, Maty Ezraty, Shiva Rea, Denise Kaufman, Deanna Ainsworth, and is an AFAA certified group exercise instructor and personal trainer. "You live your truth by sharing it." ~Baron Baptiste
Layna D instructs the following:
A Vinyasa-style dynamic flow class, Hot Power Yoga uses breath as the primary link between attentiveness and integration of the mind and body. Hot Power Yoga is an intense practice that will flow you through strengthening postures throughout the entire class. This practice is meant to detoxify the body and burn calories through movement, breath, and heat. Designed for intermediate to advanced levels. Heated to 105-109 degrees.




This high-intensity, vinyasa-style flow class incorporates small hand weights and cardio to burn fat and build lean muscle mass. This power-up session builds strength, stamina, and flexibility. Free weights serve as your own personal adjuster as you move through Sun Salutations in a vinyasa-style class, enabling extra length and depth in each pose. Designed for intermediate levels in a room heated to 100-105 degrees.