Dakota L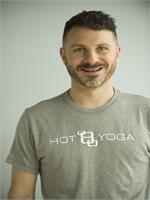 Dakota Lupo (E-RYT 200) is a west coast transplant who was born and raised in NYC. He completed his first 200-hr training at Yoga to the People in Manhattan and being teaching there in 2009. Specializing in power vinyasa, bikram yoga, and yin yoga, Dakota moved to Los Angeles in 2010 and teaches extensively all over the city. He leads teacher trainings, workshops for teachers and students alike, trains pros and amateurs, the young and the less young, and continues to develop his style of teaching to explore new territory. A creative by trade, each of Dakotas classes, each practice, each moment on the mat is different from the day before and also different from the person next door. With a continuing challenge to explore breath, each of his classes balance enough guidance and compassion for the beginner, with enough depth, specificity, and intense edge work for the advanced yogi. You will move. You will work. Find more at www.dakotalupo.com
Dakota L instructs the following:
A Vinyasa-style dynamic flow class, Hot Power Yoga uses breath as the primary link between attentiveness and integration of the mind and body. Hot Power Yoga is an intense practice that will flow you through strengthening postures throughout the entire class. This practice is meant to detoxify the body and burn calories through movement, breath, and heat. Designed for intermediate to advanced levels. Heated to 105-109 degrees.




INVIGOR8 MEDITATION will ease you into your day with this energizing 15 minute practice. Dhyana (Meditation) is the 7th limb or step of yoga, from the 8 Limbs of Yoga, where Hot 8 Yoga gets its name. Meditation helps deepen your awareness and helps you start assisting in positive thinking patterns so that you leave class refreshed for the rest of your day. All levels welcome. Low heat. $8 per class, included in all memberships.




This 90 minute class includes a set sequence of 26 postures and 2 breathing exercises. Hot Yoga begins with pranayama deep breathing to oxygenate and energize the body. The Hot Yoga series will systematically massage and stimulate every muscle, gland, and organ. Each posture prepares the body for the next, allowing students to gain strength, flexibility, and balance. Hot Yoga is an excellent foundation for learning proper alignment and developing the concentration needed for meditation. Heated to 105-110 degrees.