Dakota L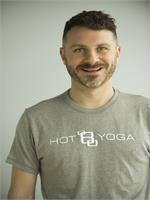 Dakota Lupo (E-RYT 200) is a west coast transplant who was born and raised in NYC. He completed his first 200-hr training at Yoga to the People in Manhattan and being teaching there in 2009. Specializing in power vinyasa, bikram yoga, and yin yoga, Dakota moved to Los Angeles in 2010 and teaches extensively all over the city. He leads teacher trainings, workshops for teachers and students alike, trains pros and amateurs, the young and the less young, and continues to develop his style of teaching to explore new territory. A creative by trade, each of Dakotas classes, each practice, each moment on the mat is different from the day before and also different from the person next door. With a continuing challenge to explore breath, each of his classes balance enough guidance and compassion for the beginner, with enough depth, specificity, and intense edge work for the advanced yogi. You will move. You will work. Find more at www.dakotalupo.com
Dakota L instructs the following:
This intermediate vinyasa-style class guides students through more advanced postures and creative sequencing. Power links breath to movement and may include arm-balances, inversions and twists to stretch and strengthen the body. Accompanied by music.




New to meditation? This is the perfect place to start. Become more relaxed, efficient, and compassionate in just 15 minutes. This silent practice is conducted in a group setting for a more powerful experience of deepening your collective awareness.




This 90 minute set sequence of 26 postures and 2 breathing exercises. Class is composed of a standing series followed by a floor series where each posture is done twice. Through discipline and structure, 26 & 2 allows students to gain strength, flexibility and balance. Conducted without music, 26 & 2 assists in developing the concentration needed for meditation and proper alignment.