Kemi O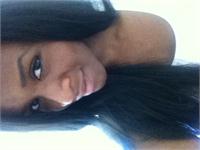 After graduating from USC in 2005, Kemi worked as a modeling agent with Photogenics at Smashbox studios. After leaving Photogenics in the summer of 2009 to take some time off, she came across the hot yoga studio where she took her first yoga class. After the first week she was hooked. In the summer of 2010 she completed a 200 hour training with Jason Wilkerson at Huntington Beach Hot Yoga. "I believe in the heat, and I believe in the focus and self awareness that hot yoga brings. I look forward to sharing hot yoga with seasoned and brand new yogis alike. Namaste'. "
Kemi O instructs the following:
This 90 minute class includes a set sequence of 26 postures and 2 breathing exercises. Hot Yoga begins with pranayama deep breathing to oxygenate and energize the body. The Hot Yoga series will systematically massage and stimulate every muscle, gland, and organ. Each posture prepares the body for the next, allowing students to gain strength, flexibility, and balance. Hot Yoga is an excellent foundation for learning proper alignment and developing the concentration needed for meditation. Heated to 105-110 degrees.