Kemi O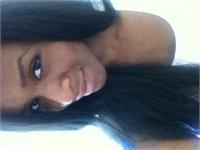 After graduating from USC in 2005, Kemi worked as a modeling agent with Photogenics at Smashbox studios. After leaving Photogenics in the summer of 2009 to take some time off, she came across the hot yoga studio where she took her first yoga class. After the first week she was hooked. In the summer of 2010 she completed a 200 hour training with Jason Wilkerson at Huntington Beach Hot Yoga. "I believe in the heat, and I believe in the focus and self awareness that hot yoga brings. I look forward to sharing hot yoga with seasoned and brand new yogis alike. Namaste'. "
Kemi O instructs the following:
This 90 minute set sequence of 26 postures and 2 breathing exercises. Class is composed of a standing series followed by a floor series where each posture is done twice. Through discipline and structure, 26 & 2 allows students to gain strength, flexibility and balance. Conducted without music, 26 & 2 assists in developing the concentration needed for meditation and proper alignment.




Power 1 Yoga $8 Community class taught by recent graduates!

A Vinyasa-style flow class designed for beginners to learn proper alignment and breath. It is a whole body strengthening practice that includes Sun Salutations, standing postures, simple arm balances, core strengthening, back bends, hip openers, and basic inversions. This class is excellent for those new to yoga as well as those with injuries to learn modifications; temp 100-105

**Must purchase the $8 Community class at the studio. It is not available online.
All who have a 10 class package will need to purchase the $8 class separately from your current package. Those with memberships and yearly contracts, this class will be deducted from your current membership.