Nancy N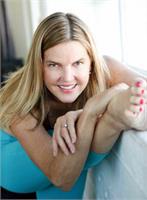 Nancy has been teaching the barre system of exercise for many years. She taught Lotte Berk in New York and Bridgehampton, owned and operated the first Lotte Berk Method Studio in Los Angeles and later Sunset Plaza Fitness. Nancy is recognized as a true expert and pioneer in the barre class format, she loves to share her expertise and wealth of knowledge. She lives in Santa Monica with her family.
Nancy N instructs the following:
This class is a dynamic fusion of barre work, light weights, non-impact cardio and yoga designed for developing long and lean muscles. By activating small muscles groups this class provides cross training and aids in injury prevention and recovery. Yoga Barre is a high energy class and is excellent for anyone looking to tone legs, booty, core, and arms to upbeat music.





Meet the trainer Nancy Norby, with Q&A.
Discover how this training can transform your life and/or start a career in teaching!

Learn about the 4 week Teacher Training program.

Sign up here to RSVP.

**Register at the Open House and receive a discount on the training!