Nancy N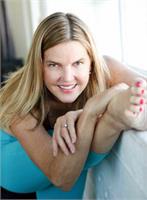 Nancy has been teaching the barre system of exercise for many years. She taught Lotte Berk in New York and Bridgehampton, owned and operated the first Lotte Berk Method Studio in Los Angeles and later Sunset Plaza Fitness. Nancy is recognized as a true expert and pioneer in the barre class format, she loves to share her expertise and wealth of knowledge. She lives in Santa Monica with her family.
Nancy N instructs the following:
This class is a dynamic fusion of barre work, light weights, non-impact cardio and yoga designed for developing long and lean muscles. By activating small muscles groups this class provides cross training and aids in injury prevention and recovery. Yoga Barre is a high energy class and is excellent for anyone looking to tone legs, booty, core, and arms to upbeat music.




Nancy is a pioneer in Barre training and has over 25 years of experience teaching Barre conditioning. You will be given a certificate of completion at the end of the program and be eligible to teach at Hot 8 Yoga!

Yoga Barre is inspired by the revolutionary exercise routine developed in London by the world-famous modern dancer, Lotte Berk and her orthopedist. Hot 8 Yoga Barre is a dynamic fusion of yoga, body sculpting, barre work, and non impact cardio that will get you long and lean. The class is filled with strengthening postures at the barre that works the legs and abdominals intensely fused with yoga postures on the mat to release and lengthen from the barre work. This class is a cardiovascular program of isometric exercises and orthopedic stretches. Yoga Barre will tone your buttocks, abdominals, thighs, and arms. It will also improve your posture and form a sculpted physique. With the use of your own body weight for resistance and through dynamic exercises, the muscles are targeted and overloaded to the point of fatigue, then stretched through our yoga series for release.

Training cost $1,200 ($500 non-refundable deposit)

All Teacher Trainings $3900 **When you sign up for the all teacher trainings you may take as many teacher trainings as you like for 1 year of your first purchase. Sign up online

Saturdays and Sundays 11:00am-6:00pm

**FOR MORE INFORMATION PLEASE EMAIL: r.eden@hot8yoga.com or call (818)995-0700

Space is limited!




Meditation Monday- the first Monday of every month. Come take an INVIGOR8 class and get a complimentary class on us!!



New to meditation? This is the perfect place to start. Become more relaxed, efficient, and compassionate in just 15 minutes. This silent practice is conducted in a group setting for a more powerful experience of deepening your collective awareness.