Elyce T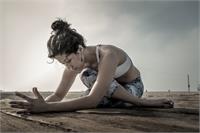 After graduating from UCLA, Elyce sought to make a positive difference by directing an after school program for inner city youth. While directing and teaching she quickly learned how wonderful it was to have meaningful impacts on people's lives through teaching. As destiny would have it, she discovered hot yoga where her interpretation of the physical practice of yoga shifted into a much deeper internal awareness. It was with this knowledge that Elyce realized the transformative potential of yoga, and she knew then that she wanted to sincerely serve others in finding their own true self through yoga. Thus, Elyce completed her 200 hour Hot 8 Yoga teacher training in a heartfelt effort to contribute positivity to the world. To strengthen her skills, Elyce is furthering her studies in Yoga Barre training at Hot 8 Yoga and with the Mini Yogis Foundation- yoga for kids! Her compassion and excitement creates an environment that is safe and encouraging for the novice and advanced yogi. She has been described by her yoga teacher as "a bright sun over a field of wild flowers that fully opens you up." Join Elyce as she humbly seeks to be a source of light that will guide you to find your own joy in every class.
Elyce T instructs the following:
This 90 minute class includes a set sequence of 26 postures and 2 breathing exercises. Hot Yoga begins with pranayama deep breathing to oxygenate and energize the body. The Hot Yoga series will systematically massage and stimulate every muscle, gland, and organ. Each posture prepares the body for the next, allowing students to gain strength, flexibility, and balance. Hot Yoga is an excellent foundation for learning proper alignment and developing the concentration needed for meditation. Heated to 105-110 degrees.