Yoga Barre Grads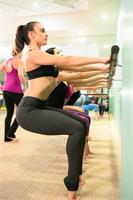 We are thrilled to have our recent Yoga Barre graduates teach the community classes!
"Strength doesn't come from what you can do, it comes from overcoming the things you thought you couldn't do."
Yoga Barre Grads instructs the following:
A Vinyasa-style flow class with added free weights for increased muscle endurance. This power up session is designed to tone and sculpt every major muscle group. Free weights serve as your own personal adjuster to deepen your practice. Strength training builds lean muscle mass and boosts metabolism even while resting. Intermediate level class-weights are always optional; temp 104-107




Yoga Barre $8 Community Classes taught by our recent graduates!

A dynamic fusion of yoga, body sculpting, barre work, and non-impact cardio that will get you long and lean. Yoga Barre is inspired by the revolutionary exercise routine developed in London by the world-famous modern dancer, Lotte Berk and her orthopedist. This class is a cardiovascular program of isometric exercises and orthopedic stretches designed to improve your posture and form a sculpted physique. Intermediate level class; temp 104-109

**Must purchase the $8 Community class at the studio. It is not available online.


All who have 10 class packages will need to purchase the $8 class separately from your current package.

Those with memberships and yearly contracts, this class will be deducted from your current membership. It is included in the membership.