Jennifer B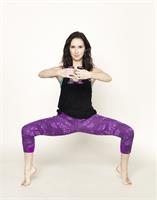 Jen has always been active, playing sports and dancing throughout her youth. She found her first yoga class around 10 years ago and loved the way it made her slow down and become more present. As soon as she found Hot Yoga Barre classes at Hot 8 Yoga, she was addicted. The classes completely transformed her body and mind, and helped her relax and get centered. Her love for the class lead her to complete her first teacher training in May of 2012 with Nancy Norby, Deanna Ainsworth, and Natasha Needles. Since then, she has trained in several other barre formats, and also completed multiple indoor cycling trainings and HIIT class trainings. She is a fitness enthusiast who strives to help people feel good, inside and out. Jen is a Florida native who graduated cum laude from Florida State University. She works full time in sales and loves working up a sweat to start her day. Jen wants to help others calm their minds, reach their fitness goals, and have some fun while doing it through her classes at Hot 8 Yoga.
Jennifer B instructs the following:
This class is a dynamic fusion of barre work, light weights, non-impact cardio and yoga designed for developing long and lean muscles. By activating small muscles groups this class provides cross training and aids in injury prevention and recovery. Yoga Barre is a high energy class and is excellent for anyone looking to tone legs, booty, core, and arms to upbeat music.