Jennifer B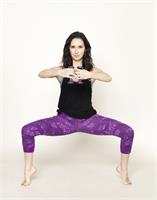 Jen has always been active, playing sports and dancing throughout her youth. She found her first yoga class several years ago, and has been hooked ever since. She is a fitness enthusiast who strives to help people feel good, inside and out. Jen graduated cum laude from FSU (GO NOLES!) with a double major in marketing and management, and a minor in psychology. She works full time and loves getting in a great workout at the beginning or end of a long day. As soon as she found Hot Yoga Barre classes, she was addicted. These classes transformed her body and mind, and helped her relax and get centered. Her love for Yoga Barre lead her to complete her teacher training with Nancy Norby, Deanna Ainsworth and Natasha Needles in May of 2012. Jen wants to help others calm their minds and reach their fitness goals through her classes at Hot 8 Yoga.
Jennifer B instructs the following:
Hot Yoga Barre is a dynamic fusion of yoga, body sculpting, barre work, and non-impact cardio designed for developing long and lean muscles. This hour-long class is packed with toning exercise that sculpt the buttocks, abdominals, thighs, and arms. The class is filled with strengthening postures at the barre working legs and abdominals fused with yoga postures on the mat to release and lengthen from the barre work. It will also improve your posture and form a sculpted physique. Hot Yoga Barre is an intermediate level class practice in a room heated to 104-109 degrees.