Power Grads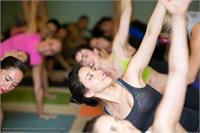 Join our Power Yoga Graduates from teacher training. We are thrilled to have them teach community classes. Thank you for your support,by taking their class, to assist them to put into action all that they learned.
Power Grads instructs the following:
Power 1 Yoga $8 Community class taught by recent graduates!

A Vinyasa-style flow class designed for beginners to learn proper alignment and breath. It is a whole body strengthening practice that includes Sun Salutations, standing postures, simple arm balances, core strengthening, back bends, hip openers, and basic inversions. This class is excellent for those new to yoga as well as those with injuries to learn modifications; temp 100-105

**Must purchase the $8 Community class at the studio. It is not available online.
All who have a 10 class package will need to purchase the $8 class separately from your current package. Those with memberships and yearly contracts, this class will be deducted from your current membership.