Poopack B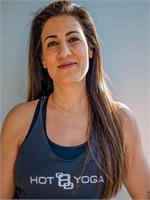 Poopack has been practicing Yoga ever since she took her first class in 2002. Her passion for Yoga has evolved over the years as her mat has become her best friend. She continues to practice daily and is always searching for beautiful things in life to inspire her teaching skills. She is a graduate of the 500 hour teacher training program through YogaWorks. Poopack truly believes that Yoga can heal everyone, as well as encourage beginning students. She recognizes different levels and strengths and strives to accommodate all of her students. Poopack's Yoga classes are energetic, fun, constructive, and passionate as well as a fantastic workout. Her love of life, family, and of course Yoga are all integrated into her practice and teach. Namaste.
Poopack B instructs the following:
This hour-long, shoulder-friendly class focuses on strengthening without chaturangas (high to low push-ups). A balanced mix of both our Hot Yoga and Power Yoga styles, HPF will both restore and revitalize your muscles. It includes standing postures, core work, deep hip openers, and inversions. All levels welcome. Heated to 105-109 degrees.




This Vinyasa-style flow class designed for beginners features a set sequence. Pairing breath with movement, Hot Power 1 is meant to help integrate the mind/body connection. It is a whole body strengthening practice that includes Sun Salutations, standing postures, simple arm balances, core strengthening, backbends, hip-openers, basic inversions, and restorative postures. Hot Power 1 is an excellent class for both new and old students to learn proper yoga alignment and any necessary modifications. Heated to 100-105 degrees.




A Vinyasa-style dynamic flow class, Hot Power Yoga uses breath as the primary link between attentiveness and integration of the mind and body. Hot Power Yoga is an intense practice that will flow you through strengthening postures throughout the entire class. This practice is meant to detoxify the body and burn calories through movement, breath, and heat. Designed for intermediate to advanced levels. Heated to 105-109 degrees.