Amanda D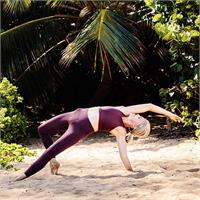 Amanda Dykann was born and raised in Basalt, Colorado a little town outside Aspen. She first discovered Yoga while attending college at the University of Colorado at Boulder and went on to become a certified instructor, attending Bikram Yoga teacher training in Honolulu, Hawaii in the spring of 2007.
Becoming an instructor was the touchstone to Amanda's lifelong pursuit of health, wellness and the healing arts. A former marathon runner and lifelong skier, yoga was the gate to forging a deep connection between her body, mind and spirit. In March 2008, she traveled to Tulum, Mexico and became a certified teacher of Partner Yoga. This took her desire to another level because it provides a connection between participants that is more hands-on than yoga and introduced her to a way of massage that is more interactive than some of the more traditional styles. In 2009 Amanda continued her education and obtained her 200hr Yoga Alliance certification at Arjuna Yoga in Aspen, CO. In the fall of 2014 she received her second 200hr certification in vinyasa from Hot 8 Yoga. She is currently certified with RYT 500 and ERYT 200.
Now living in LA, Amanda feels blessed to be connected to the beach and the mountains and she travels back and forth from Aspen to LA often.
Amanda received her master's degree from the University of Santa Monica, in Spiritual Psychology and just recently finished her second degree with an emphasis in Consciousness, Health, and Healing. She is passionate in what she does, loves teaching, sharing what she has learned and her experience with others.
Amanda D is currently not instructing any classes.