Kaliko H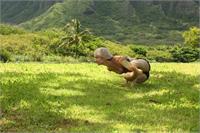 Hawai'i native Kaliko Hurley loves the practice - and challenge - of yoga. First arriving on her mat as an undergraduate student at Stanford University and reuniting with it again at UCLA Law, Kaliko practiced to get out of her mind and into her body - a more joyful, expressive and loving place. Thanks to a history of long-distance running, daily marathon hours at a computer and being blessed what her teachers have called a naturally "tight"-er body, Kaliko is especially challenged by her daily practice that requires full focus, presence and, most importantly, patience. Kaliko received her teaching certification while studying under senior teacher Joan Hyman at Yogaworks and teaches Ashtanga-inspired classes influenced by her some of her favorite teachers including Vinnie Marino, Sara Ivanhoe and Bianca Fearon. Aloha!
Kaliko H instructs the following:
Yin Yoga targets the connective tissues of the chest, shoulders, hips, pelvis, and lower spine, with the aim of increasing circulation in the joints and improving flexibility. A more meditative approach to yoga, yin aims at cultivating awareness through long held postures with the use of props. Hot Yin Yoga compliments a more active (Yang) practice because it improves flexibility, ease and balance. Heated to 100 degrees.