Omar L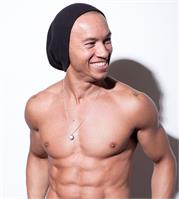 Omar Lopez combines yoga, dance and martial arts to soulful sounds and ancestral rhythms to provide a unique platform of movement meditation.
Omar is formerly a feature choreographer and dancer for several multi platinum selling entertainment icons such as Janet Jackson, Madonna, Mary J Blige, P. Diddy Ricky Martin, Pink and Usher ...just to name a few.
At present Mr. Lopez holds certifications with The national Academy of Sports Medicine ( NASM ), YOGA ALLIANCE, 200 hr cert. EARTHS POWER YOGA and is a dedicated practitioner of GRACIE JIU JITSU.
Omar's classes will challenge the warrior spirit while allowing the practitioner to do so in a safe space of spiritual liberation and self expression.
Omar L instructs the following:
This breath to movement class that combines free weights with yoga and cardio to increase stamina and strength. Sculpt is a total body workout designed to sculpt and define every major muscle group. This class is high energy with upbeat music.




Rhythmic-based power class in which sequences are executed to various tempos and intensities. Each class is accompanied with its own carefully crafted playlist and theme. At its peak, the sequence is linked to the beat of the music challenging balance, core strength, endurance and stamina. Candles, dim lights and soulful sounds set the vibe for the class. In this challenging tempo-based class, expect less alignment cues and some fast paced movement to music to help remain grounded in your experience. Class created by Omar Lopez.




'The Place of the Way' This class successfully integrates Asana, various Martial Arts Systems and Animal Form Movements into creative flow sequences, out of the box transitions and inversion play.
Blocks, weighted bars and light weights are also uniquely incorporated into conditioning drills and strength training.
This candle lit experience is accentuated with carefully curated soft-house, soulful grooves and chill-hop meant to inspire an informed and yet artistic atmosphere. All levels with martial arts movement. Class created by Omar Lopez.