Julia P-T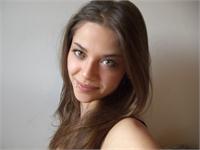 Julia Planine-Troiani explores various forms of movement practice including Yoga, Pilates, dance, Thai Massage, Gaga, Butoh, and has been teaching her discoveries for seven years. She is particularly grateful to Lindsay Dombrowski (Yoga to the People) for her intention, ferocity and love. She is committed to holding space for people to realize their own inspirational power, agency and beauty. Yoga, like any practice, is holistic. She hopes to illuminate and encourage self-awareness through a highly physical, sensation-based experience as a means towards self-discovery that necessarily pours off the mat into "daily life". She is looking forward to sharing time and space with you and doing the good work! (ate9dancecompany.com)
Julia P-T instructs the following:
A Vinyasa-style dynamic flow class, Hot Power Yoga uses breath as the primary link between attentiveness and integration of the mind and body. Hot Power Yoga is an intense practice that will flow you through strengthening postures throughout the entire class. This practice is meant to detoxify the body and burn calories through movement, breath, and heat. Designed for intermediate to advanced levels. Heated to 105-109 degrees.




This 90 minute class includes a set sequence of 26 postures and 2 breathing exercises. Hot Yoga begins with pranayama deep breathing to oxygenate and energize the body. The Hot Yoga series will systematically massage and stimulate every muscle, gland, and organ. Each posture prepares the body for the next, allowing students to gain strength, flexibility, and balance. Hot Yoga is an excellent foundation for learning proper alignment and developing the concentration needed for meditation. Heated to 105-110 degrees.