La Mer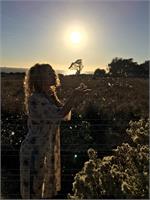 La Mer is a healer, songstress and storyteller from Los Angeles Earth. Her work centers around powerful rituals of union with soulful nature. A certified Prana Vinyasa teacher and Ayurvedic Lifestyle Consultant with over 10 years of experience in the healing and performing arts, Mer honors the ancient wisdom of eastern philosophies while allowing her sensitive and playful essence to guide the experience :) Her style lyrically integrates an intuitive blend of movement, hands on healing, reiki, sound therapy, essential oils, crystals, yoga, and other meditative practices. Aside from her creative contributions, Mer supports ocean conservation with beach clean ups and as an advocate for Mission Blue, an organization dedicated to hope spots, global marine protected areas large enough to save and restore the ocean. La Mer's main project, In Waves, is a creatively inspired sound healing experience combining original music, live field recordings, crystal singing bowls, gongs, chimes, drum, and sacred song.
More info: LoveLaMer.com
La Mer is currently not instructing any classes.