Kellie S-P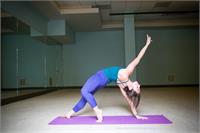 Kellie St. Pierre initially found yoga as a supplement to her dance training. Devoted to maintaining a healthy and lasting body she discovered a true passion for yoga, recognizing the balance and tranquility it also provided in her life. After graduating from the University of California, Irvine, with a B.F.A. in Dance Performance, a minor in Business Management and a minor in Civic and Community Engagement, Kellie found herself in Chicago, Illinois, where she completed her 200-hour yoga certification through CorePower Yoga.
As both a dance and yoga instructor, she teaches to inspire others to challenge themselves, feel empowered, and most importantly find joy within movement and attention to the body. Yoga provides for Kellie strength, encouragement, discipline, self-respect, and love, and she is blessed to share these benefits and so much more with others. Kellie is excited to be a part of LA's most beloved Hot8Yoga community!
Kellie S-P instructs the following:
This set series is an hour-long, shoulder and wrist-friendly class without chaturangas (high to low push-ups) that combines the 26 & 2 and Power Yoga styles. Hot Power Fusion includes balancing, core work, hip openers and inversions accompanied by music, encouraging mindful focus and detoxification.