Kimberly D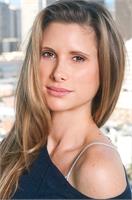 Kimberly was born and raised in Orange County, California. From a very young age she was a free spirit who lived for being active. She was a gymnast, national champion trampolinist and competed in World Championships for trampoline in Lisbon, Portugal. In addition she was a 4 time National Champion springboard/platform diver, a member of the USA Diving National team and competed in several World Championship competitions. She had her eyes set on diving in the Olympic games, until her dreams were shattered and was forced to retire because of wrist injuries.
Through the struggle of loosing diving Kimberly found yoga and again found herself. She has been practicing yoga for over 7 years and has made it her mission to share her love for yoga with all who are willing to listen. She claims to be a hippie trapped in a modern girls world, and strives to create a class that all levels of student can enjoy.
"My goal is to connect my students with their mind, body and soul. Yoga has changed my life, let me show you how it can change yours."
Kimberly D instructs the following:
This hour-long, shoulder-friendly class focuses on strengthening without chaturangas (high to low push-ups). A balanced mix of both our Hot Yoga and Power Yoga styles, HPF will both restore and revitalize your muscles. It includes standing postures, core work, deep hip openers, and inversions. All levels welcome. Heated to 105-109 degrees.




Foundations 2 Intro to Meditation & Philosophy is an introduction into Ayurveda- the Science of Life, and the meaning of OM as well as other accessible yoga philosophy. This 4 week series sets the foundation for a successful yoga practice. It can be attended out of order and is designed for those who are new to yoga or have practiced for some time and are looking for a deeper understanding. The intention is to demystify 'What is Yoga'. We will explore foundational postures and introduce yoga philosophy. This program is accessible to all in a fun supportive environment. Come learn about the 8 Limbs of Yoga and take your practice to the next level!