Carly L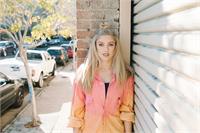 Carly has been dancing and bopping around ever since she can remember. After dancing all her life she decided to attend Berklee College of Music in Boston, for voice, to explore her other talents. She then made her way out to Los Angeles to pursue a career in performance, where she didn't know anyone. Walking into a yoga studio and signing up for a one month unlimited at Hot 8 Yoga is where it all began, and has not stopped since. It was yoga that kept her going and it soon became a lifestyle. Taking anything from Hot Yoga to Yoga Sculpt, it is not wonder she stumbled upon Yoga Barre, a mix between Yoga, Dance, and Pilates. After training with Nancy Norby and Natasha Needles. she went on to teach. She is so passionate about Yoga Barre, seeing results immediately and wishing to bring that joy and change to anyone and everyone who will listen!
Carly L instructs the following:
This class is a dynamic fusion of barre work, light weights, non-impact cardio and yoga designed for developing long and lean muscles. By activating small muscles groups this class provides cross training and aids in injury prevention and recovery. Yoga Barre is a high energy class and is excellent for anyone looking to tone legs, booty, core, and arms to upbeat music.