Alex J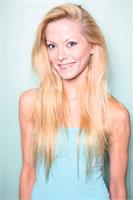 An old soul with a young spirit, Alex believes in living life in the moment, guided by intuition, and rooted in compassion.Years of ballet and jazz dance helped Alex appreciate the self-expression and discipline of movement. While she began to notice how many athletes, and especially dancers, were injured, even immobilized, she accepted pain as a natural component of sport. However, in her teens, complications from a peripheral neuropathy made an aggressive approach to movement unsuccessful for Alex. Heartbroken, she gave up on ballet and spent years searching for a new form of expression. Then, one day, the stars aligned when she wandered into a hot vinyasa yoga class to prove to a friend that yoga wasn't for her. To her surprise, she was blown away not only by how hard she worked, but by how centered and clear she felt after. The heat eased the tension on her nerves, and the fluid movement brought back the expression that dance had once offered. In time, her mat became the one place she felt herself, and it became clear that yoga could be healing on so many levels. Yoga helped her overcome the fear of falling and let go of the need to be perfect. As a teacher, she loves helping others overcome their own fears and weaknesses. She began teaching a hot vinyasa flow class at Malibu Hot Yoga in 2011 and did her 200HR Power Yoga certification under Bianca Fearon at Hot 8 Yoga in 2013.
"For me, yoga is about more than standing on your hands or bending you head back to your toes. It is about connecting mind and body, and that's unique to each individual. We all come to the mat with different energies and challenges, and by honoring where we are each day, we grow stronger. We break through barriers we don't even know we have." She respects that no two bodies are the same. She encourages ahimsa (compassion) and mindfulness- listening to your body and modifying postures. But don't think that means you won't leave her class sweaty and smiling. "Ten years ago, I would've laughed at yoga. Five years ago, I would've said I couldn't do it. Now I wholeheartedly believe that anyone who says they can't do yoga just hasn't found the right practice or teacher for them."
Alex J instructs the following:
Hot Yin Yoga is a restorative class designed to release tension and calm the nervous system. With the gentle support of props, students will passively stretch and energize the body's deep connective tissue. Enjoy the therapeutic benefits of deep relaxation in a heated room of 95-100 degrees.




This Vinyasa-style flow class designed for beginners features a set sequence. Pairing breath with movement, Hot Power 1 is meant to help integrate the mind/body connection. It is a whole body strengthening practice that includes Sun Salutations, standing postures, simple arm balances, core strengthening, backbends, hip-openers, basic inversions, and restorative postures. Hot Power 1 is an excellent class for both new and old students to learn proper yoga alignment and any necessary modifications. Heated to 100-105 degrees.




INVIGOR8 MEDITATION will ease you into your day with this energizing 15 minute practice. Dhyana (Meditation) is the 7th limb or step of yoga, from the 8 Limbs of Yoga, where Hot 8 Yoga gets its name. Meditation helps deepen your awareness and helps you start assisting in positive thinking patterns so that you leave class refreshed for the rest of your day. All levels welcome. Low heat. $8 per class, included in all memberships.




Foundations 4 Chakra Intro is the introduction that the chakras are gateways between mind, body and consciousness where prana(life-force) moves to bring an individual to Mukti(liberation).

This 4 week series sets the foundation for a successful yoga practice. It can be attended out of order and is designed for those who are new to yoga or have practiced for some time and are looking for a deeper understanding. You will learn the foundations of alignment, modifications, breath, yogic philosophy and touch upon meditation. This program is accessible to all in a fun supportive environment. Come learn about the 8 Limbs of Yoga and take your practice to the next level!




A Vinyasa-style dynamic flow class, Hot Power Yoga uses breath as the primary link between attentiveness and integration of the mind and body. Hot Power Yoga is an intense practice that will flow you through strengthening postures throughout the entire class. This practice is meant to detoxify the body and burn calories through movement, breath, and heat. Designed for intermediate to advanced levels. Heated to 105-109 degrees.