Marie K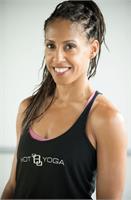 What about me? I am me. I am a passionate individual with undertones of adventure. I teach fitness, yo! My whole life has been a collection of events that have shaped me into the person I am today, without which I would not recognize the strength and wisdom that I already posses. The statistics of my career in fitness started with getting certified to teach yoga in the summer of 2011. Since then I have received 2 more yoga certifications, trained in shadow boxing technique and bag work, designed my own Bootcamps, and have also led other students into teaching! I am also a personal trainer and a successful leader of group fitness classes with an emphasis on empowerment, alignment, and good energy.
My current adventure is studying Kinesiology at A.T. Still University to increase my knowledge as a fitness professional! My mission being, to encourage a lifestyle of aligned thinking and doing to a diverse clientele to change the mindset and bodies of those who wish to optimize their lives through leadership, continued education, and support in a safe and welcoming environment. This will be achieved within the confines of integrity and the standards set forth by the field of Kinesiology.
Marie K instructs the following:
A Vinyasa-style dynamic flow class, Hot Power Yoga uses breath as the primary link between attentiveness and integration of the mind and body. Hot Power Yoga is an intense practice that will flow you through strengthening postures throughout the entire class. This practice is meant to detoxify the body and burn calories through movement, breath, and heat. Designed for intermediate to advanced levels. Heated to 105-109 degrees.




This high-intensity, vinyasa-style flow class incorporates small hand weights and cardio to burn fat and build lean muscle mass. This power-up session builds strength, stamina, and flexibility. Free weights serve as your own personal adjuster as you move through Sun Salutations in a vinyasa-style class, enabling extra length and depth in each pose. Designed for intermediate levels in a room heated to 100-105 degrees.




INVIGOR8 MEDITATION will ease you into your day with this energizing 15 minute practice. Dhyana (Meditation) is the 7th limb or step of yoga, from the 8 Limbs of Yoga, where Hot 8 Yoga gets its name. Meditation helps deepen your awareness and helps you start assisting in positive thinking patterns so that you leave class refreshed for the rest of your day. All levels welcome. Low heat. $8 per class, included in all memberships.