Marie K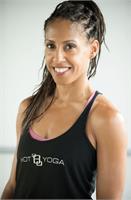 What about me? I am me. I am a passionate individual with undertones of adventure. I teach fitness, yo! My whole life has been a collection of events that have shaped me into the person I am today, without which I would not recognize the strength and wisdom that I already posses. The statistics of my career in fitness started with getting certified to teach yoga in the summer of 2011. Since then I have received 2 more yoga certifications, trained in shadow boxing technique and bag work, designed my own Bootcamps, and have also led other students into teaching! I am also a personal trainer and a successful leader of group fitness classes with an emphasis on empowerment, alignment, and good energy.
My current adventure is studying Kinesiology at A.T. Still University to increase my knowledge as a fitness professional! My mission being, to encourage a lifestyle of aligned thinking and doing to a diverse clientele to change the mindset and bodies of those who wish to optimize their lives through leadership, continued education, and support in a safe and welcoming environment. This will be achieved within the confines of integrity and the standards set forth by the field of Kinesiology.
Marie K instructs the following:
This class is a dynamic fusion of barre work, light weights, non-impact cardio and yoga designed for developing long and lean muscles. By activating small muscles groups this class provides cross training and aids in injury prevention and recovery. Yoga Barre is a high energy class and is excellent for anyone looking to tone legs, booty, core, and arms to upbeat music.




This foundational class connects breath to movement (vinyasa) and focuses on proper alignment to set students up for success in all styles offered at Hot 8 Yoga. The temperature is set at a lower level to help acclimate students to the heat. Power 1 is an excellent full body strengthening class for both new and experienced students to learn any necessary modifications to improve their practice.




This breath to movement class that combines free weights with yoga and cardio to increase stamina and strength. Sculpt is a total body workout designed to sculpt and define every major muscle group. This class is high energy with upbeat music.