Chelsea M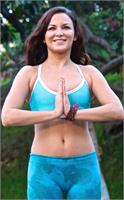 Chelsea Mallon started practicing yoga about a decade ago, but it wasn't until her discovery of the heat, and the loving, beautiful community at Hot 8 Yoga, that she became truly devoted to her yogic path. Chelsea is so glad that she began her journey through teaching training at Hot 8 Yoga. She derived a wealth of knowledge, and is very excited to radiate her passion for Hot Yoga to others. She graduated from USC with a double bachelor's degree in psychology and theatre. She has always been fascinated by the mind, body, and soul connection, and Hot Yoga gave her space to explore those interests in an experiential way that has been nothing short of life-changing. A few years ago after being involved in a bad car accident, she found herself with injuries, chronic pain, and anxiety like she'd never experienced before. She attributes Hot Yoga to being integral to her healing process, and would not have as many smiles or pain-free days were it not for this amazing practice. Because of the gifts- both internally and externally that she has received from Hot Yoga, she felt called to give back by becoming a teacher.
"I think that it's particularly important in a hot yoga practice to find the balance- effort and intensity are integral to this sequence, but so is stillness and listening to your body."~ Chelsea Mallon
Chelsea M instructs the following:
Foundational class of 26 static postures balancing every system of the body with 2 sets of the standing series and 1 set of the floor series. Beginner to intermediate levels. Heated to 105-109 degrees.




Hot Yin Yoga is a restorative class designed to release tension and calm the nervous system. With the gentle support of props, students will passively stretch and energize the body's deep connective tissue. Enjoy the therapeutic benefits of deep relaxation in a heated room of 95-100 degrees.




This hour-long, shoulder-friendly class focuses on strengthening without chaturangas (high to low push-ups). A balanced mix of both our Hot Yoga and Power Yoga styles, HPF will both restore and revitalize your muscles. It includes standing postures, core work, deep hip openers, and inversions. All levels welcome. Heated to 105-109 degrees.




This 90 minute class includes a set sequence of 26 postures and 2 breathing exercises. Hot Yoga begins with pranayama deep breathing to oxygenate and energize the body. The Hot Yoga series will systematically massage and stimulate every muscle, gland, and organ. Each posture prepares the body for the next, allowing students to gain strength, flexibility, and balance. Hot Yoga is an excellent foundation for learning proper alignment and developing the concentration needed for meditation. Heated to 105-110 degrees.