Holly L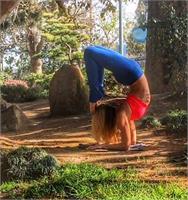 Yoga has been a passion of Holly's for over 10 years. As a Five times X Games Athlete & World Cup Skateboarding Champion, Hot Yoga has really helped her to heal injuries, learn to be more present in the moment and learn how to focus her energy more powerfully.
Yoga is something she always did for herself and then a couple of years ago she was asked to fill in for a teacher at her nutrition club that couldn't make it. After teaching that day she realized how passionate she was to teach yoga for the rest of her life. In January of 2014, Holly signed up to become a certified yoga teacher. She is so grateful to have completed her 200 Hour Yoga Alliance Teacher Training with Hot 8 Yoga, Voted Top Yoga Studio in Los Angeles for multiple years now. She also teaches at both locations in Santa Monica and Beverly Hills.
Giving the gift of yoga to others and such a joy and she says it's a walking meditation for herself. Whenever we give we also receive so much love back. The greatest gift is the transformation of ourselves and yoga is such a powerful way to practice and transform ourselves on a daily basis. One love!
Holly L instructs the following:
This hour-long, shoulder-friendly class focuses on strengthening without chaturangas (high to low push-ups). A balanced mix of both our Hot Yoga and Power Yoga styles, HPF will both restore and revitalize your muscles. It includes standing postures, core work, deep hip openers, and inversions. All levels welcome. Heated to 105-109 degrees.




This 90 minute class includes a set sequence of 26 postures and 2 breathing exercises. Hot Yoga begins with pranayama deep breathing to oxygenate and energize the body. The Hot Yoga series will systematically massage and stimulate every muscle, gland, and organ. Each posture prepares the body for the next, allowing students to gain strength, flexibility, and balance. Hot Yoga is an excellent foundation for learning proper alignment and developing the concentration needed for meditation. Heated to 105-110 degrees.