Kim P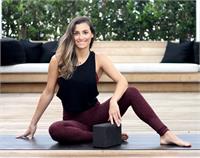 With a passion for movement and wellness, Kimberly Ann is a future-focused yoga barre instructor with over 12 years of proven success working professionally in the physical fitness and wellness space. She has worked closely with various high school, collegiate and professional teams empowering dancers through her choreography, fitness expertise, and wellness knowledge. A few of her professional dance highlights include dancing for the legendary Los Angeles Lakers, the Golden State Warriors Championship team, performing for artists such as Maroon 5, choreographing auditions and showcases, instructing Barre classes, and developing her own international wellness education workshop. In 2004, at the age of 18 and at the start of her dance career Kimberly Ann was in a car accident that left her bedridden and lost her mobility to walk. Through perseverance, she regained her inner strength and, more importantly, learned to adapt to adversity both physically and mentally. She went on to share with others the lessons learned from this difficult time, helping other female dancers. With this mindset, she has found a new passion for yoga. Kimberly's mission is to weave together her passion for movement and wellness, in order for people to nurture their body, mind, and soul.
Kim P instructs the following:
This class is a dynamic fusion of barre work, light weights, non-impact cardio and yoga designed for developing long and lean muscles. By activating small muscles groups this class provides cross training and aids in injury prevention and recovery. Yoga Barre is a high energy class and is excellent for anyone looking to tone legs, booty, core, and arms to upbeat music.




New to meditation? This is the perfect place to start. Become more relaxed, efficient, and compassionate in just 15 minutes. This silent practice is conducted in a group setting for a more powerful experience of deepening your collective awareness.