Janette R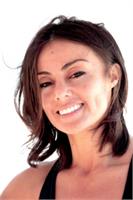 Janette has always been an athlete (gymnast, track and field, collegiate cheerleader and diver, surfer). She now brings her love of music and movement to Hot 8 Yoga. Janette fell in love with yoga after the first few classes and knew right away she wanted to make the leap from student to instructor. Janette's classes are high energy, caliente and intense! She plays a wide range of music from indie to dance to electronic. She encourages the class to lose themselves in the music and discover sexy sweaty strength.
Outside the studio, Janette can be found surfing, hiking or spending quality time with her adorable niece and nephew.
Janette is a Registered Yoga Teacher. She received her RYT 200 Certificate and 50 Hour Yoga Sculpt Certificate from Hot 8 Yoga in 2013/2014.
"Get into your body and out of the mind!"
Janette R instructs the following:
This high-intensity, vinyasa-style flow class incorporates small hand weights and cardio to burn fat and build lean muscle mass. This power-up session builds strength, stamina, and flexibility. Free weights serve as your own personal adjuster as you move through Sun Salutations in a vinyasa-style class, enabling extra length and depth in each pose. Designed for intermediate levels in a room heated to 100-105 degrees.




Hot Yoga Barre is a dynamic fusion of yoga, body sculpting, barre work, and non-impact cardio designed for developing long and lean muscles. This hour-long class is packed with toning exercise that sculpt the buttocks, abdominals, thighs, and arms. The class is filled with strengthening postures at the barre working legs and abdominals fused with yoga postures on the mat to release and lengthen from the barre work. It will also improve your posture and form a sculpted physique. Hot Yoga Barre is an intermediate level class practice in a room heated to 104-109 degrees.