Janette R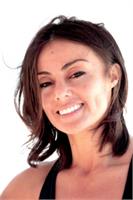 Janette has always been an athlete (gymnast, track and field, collegiate cheerleader and diver, surfer). She now brings her love of music and movement to Hot 8 Yoga. Janette fell in love with yoga after the first few classes and knew right away she wanted to make the leap from student to instructor. Janette's classes are high energy, caliente and intense! She plays a wide range of music from indie to dance to electronic. She encourages the class to lose themselves in the music and discover sexy sweaty strength.
Outside the studio, Janette can be found surfing, hiking or spending quality time with her adorable niece and nephew.
Janette is a Registered Yoga Teacher. She received her RYT 200 Certificate and 50 Hour Yoga Sculpt Certificate from Hot 8 Yoga in 2013/2014.
"Get into your body and out of the mind!"
Janette R is currently not instructing any classes.