Rebekah R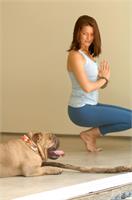 With a deep compassion for her spiritual practice and community, Rebekah's classes are vibrant and playful, giving students the opportunity to push their limits and discover possibilities. She strives to make every yoga class unique and individual on a physical, mental and emotional level. Her classes carry the energy of vinyasa flow, while emphasizing the principles of functional body alignment. In her personal life, whether Rebekah is chasing after her little muse, diving into laughter with a friend, exploring possibilities on her own mat, reading, listening to music or perfecting the art of "meditation driving" in LA, she always looks for an opportunity to find balance and a way to connect with her environment. She believes all things in life create an opportunity to express our authenticity, and she strives to explore this reality with her students. A forever student of yoga, Rebekah has studied with a wide variety of teachers. When asked what style of yoga she teaches, her response is "Pirate Yoga, I keep what I like and ditch the rest".
www.rebekahgraceyoga.com
Rebekah R instructs the following:
This intermediate vinyasa-style class guides students through more advanced postures and creative sequencing. Power links breath to movement and may include arm-balances, inversions and twists to stretch and strengthen the body. Accompanied by music.




Please join us for our upcoming Power Yoga Teacher Training Open House in Beverly Hills.Meet the lead trainer Rebekah Rivera with Q&A. Receive a $100 off coupon to apply towards training payment!Learn about the 200 hour Yoga Alliance approved Teacher Training program. Sign up online.Email teachertraining@hot8yoga.com or call 310-986-6420 any questions.




This foundational class connects breath to movement (vinyasa) and focuses on proper alignment to set students up for success in all styles offered at Hot 8 Yoga. The temperature is set at a lower level to help acclimate students to the heat. Power 1 is an excellent full body strengthening class for both new and experienced students to learn any necessary modifications to improve their practice.




New to meditation? This is the perfect place to start. Become more relaxed, efficient, and compassionate in just 15 minutes. This silent practice is conducted in a group setting for a more powerful experience of deepening your collective awareness.




This slow-moving class targets connective tissue through seated and lying postures held for long periods of time with the use of blocks and straps. Yin compliments the more active classes offered at Hot 8 Yoga by increasing circulation in the joints and improving flexibility. This practice is perfect for all levels and those recovering from injury.