Melissa C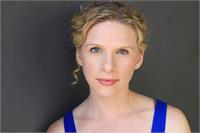 Melissa made her way to her mat back in 2004 in Manhattan where the heat and calm of the yoga studio offered her a much needed rest from the hectic pace of the city. As a dancer Melissa found Bikram yoga a home away from home and a place to ease recurring injuries. After following her acting career to LA Melissa decided it was finally time to share her love for yoga and took her first of two 200 hour training programs where she became certified in Hot Power Fusion and then Power Flow. Melissa has also continued her training in Yin/Restorative yoga and has discovered a new love of the quieter part of her practice. Melissa classes focus heavily on alignment and breath...helping you to find the way your practice should fit on your body and helping to quiet the chatter in your mind.
Melissa C instructs the following:
This slow-moving class targets connective tissue through seated and lying postures held for long periods of time with the use of blocks and straps. Yin compliments the more active classes offered at Hot 8 Yoga by increasing circulation in the joints and improving flexibility. This practice is perfect for all levels and those recovering from injury.