Stephan S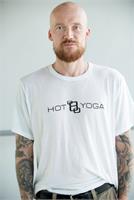 Stephan has been practicing yoga for some years now, but really fell in love with it and the sweat more recently in the Big Apple. Drawn to Hot Yoga by its athletic aspects he also found concentration and focus, something that helps him as a performer and a human being on many levels. After arriving in LA and finding the clarity, support and warmth (!) of Hot8, it was time to deepen the practice here; and Julia, Dakota and Brit have been wonderful teachers. He is excited about what this journey will bring next and to explore it with other practitioners, students and teachers.
Stephan S instructs the following:
Foundational class of 26 static postures balancing every system of the body with 2 sets of the standing series and 1 set of the floor series. Beginner to intermediate levels. Heated to 105-109 degrees.




This hour-long, shoulder-friendly class focuses on strengthening without chaturangas (high to low push-ups). A balanced mix of both our Hot Yoga and Power Yoga styles, HPF will both restore and revitalize your muscles. It includes standing postures, core work, deep hip openers, and inversions. All levels welcome. Heated to 105-109 degrees.




This 90 minute class includes a set sequence of 26 postures and 2 breathing exercises. Hot Yoga begins with pranayama deep breathing to oxygenate and energize the body. The Hot Yoga series will systematically massage and stimulate every muscle, gland, and organ. Each posture prepares the body for the next, allowing students to gain strength, flexibility, and balance. Hot Yoga is an excellent foundation for learning proper alignment and developing the concentration needed for meditation. Heated to 105-110 degrees.