Brandii R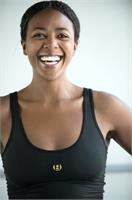 As a competitive gymnast and cheerleader growing up, strenuous cardiovascular activities defined my ideal workout regimen. So you could imagine my aversion to the first hour-long yoga class I attended in college, which consisted solely of meditation and breathing. No poses. No cardio. I am pretty sure I vowed never to attend another yoga class. Ten years later, in 2010, while going through a challenging time in my professional career, I was encouraged to give a hot yoga class a try. I fell in love! The class was the perfect marriage of cardio, strength, flexibility, and self-reflection. The peace and centeredness I gained from the practice was a great counter-balance to the stressors of my day job as an attorney. After committing myself to the practice for four years, I elected to take the next step- teaching. In the Fall of 2014, I followed my passion and obtained my Hot Yoga Certification at Hot 8 Yoga in Beverly Hills under the guidance of our very own Dakota Lupo and Julia Planine-Troiani. Hot Yoga has truly impacted my being- physically and mentally- for the better; I have a greater awareness of self and of my own ability to manifest positive change in my life. I hope that my teaching, will lead others to the same or greater realization for themselves.
"To create space for the universe to fill our lives with joy, we must clear the blockages, fears and patterns holding our highest selves back."
Brandii R instructs the following:
This 90 minute set sequence of 26 postures and 2 breathing exercises. Class is composed of a standing series followed by a floor series where each posture is done twice. Through discipline and structure, 26 & 2 allows students to gain strength, flexibility and balance. Conducted without music, 26 & 2 assists in developing the concentration needed for meditation and proper alignment.




This set series is an hour-long, shoulder and wrist-friendly class without chaturangas (high to low push-ups) that combines the 26 & 2 and Power Yoga styles. Hot Power Fusion includes balancing, core work, hip openers and inversions accompanied by music, encouraging mindful focus and detoxification.