Devon R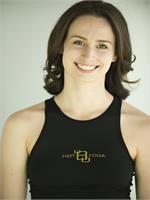 Devon has been dancing since a very young age. After graduating from University of Cincinnati's College Conservatory of Music with a BFA in Ballet, Devon moved across the country to explore dancing in Los Angeles. She discovered Yoga Barre as a supplement to her dance training but quickly fell in love with the combination of dance conditioning, yoga, and pilates. Devon is so excited to be a part of the Hot8Yoga community! Through her classes she wants to help others center their minds, strengthen their body from the inside out, and have fun!
Devon R instructs the following:
Hot Yoga Barre is a dynamic fusion of yoga, body sculpting, barre work, and non-impact cardio designed for developing long and lean muscles. This hour-long class is packed with toning exercise that sculpt the buttocks, abdominals, thighs, and arms. The class is filled with strengthening postures at the barre working legs and abdominals fused with yoga postures on the mat to release and lengthen from the barre work. It will also improve your posture and form a sculpted physique. Hot Yoga Barre is an intermediate level class practice in a room heated to 104-109 degrees.