Devon R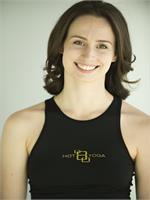 Devon was born in Cincinnati, OH where she first fell in love with ballet at six years old. She spent much of her childhood in and out of ballet classes, eventually studying ballet at a performing arts high school and at the collegiate. She graduated from the University of Cincinnati College-Conservatory of Music in May of 2016, that fall she set out west to explore dancing in Los Angeles. While in LA, Devon's interest in yoga has continually blossomed since her arrival. As a dancer, she was eager to use yoga to keep her body in top athletic shape, but has learned that yoga provides so much more.Yoga was full of energy, with ability to calm, heal, inspire, motivate, and to break any perceived limitations or usual ideas of yourself. Wanting to share this yoga with everyone is what inspired her to take teacher trainings at Hot8Yoga, completing both a 50hr Barre and 200hr Power certification. While honoring the traditional teachings of yoga, Devon's style is equal parts fun and hard work while creating a safe space for you to explore your own personal yoga practice. See you in class!
Devon R instructs the following:
This class is a dynamic fusion of barre work, light weights, non-impact cardio and yoga designed for developing long and lean muscles. By activating small muscles groups this class provides cross training and aids in injury prevention and recovery. Yoga Barre is a high energy class and is excellent for anyone looking to tone legs, booty, core, and arms to upbeat music.




Join Alex H, Eddy R, and Sarah H for at Hot 8 Yoga for our 10 week Hot 8 Yoga Teacher Training! Our experienced trainers offer a sacred space for you to embody the ancient teachings of yoga and facilitate self-transformation in a fun, caring and supportive environment. Whether you aspire to teach, are an experienced teacher or simply want to deepen your practice, this training will empower you. Our training is about learning through experience to become an effective teacher. The Hot 8 Teacher Training will give you tools to apply on and off the yoga mat! In this 200 hour Teacher Training you will learn the foundational postures for a power vinyasa-style class. It is an intensified whole body strengthening practice that includes Sun Salutations, standing postures, arm balances, core strengthening, backbends, hip openers, inversions and restorative postures. We will explore Yoga Philosophy, Ayurveda, Meditation and Sanskrit. Through this practice you will develop strength, flexibility and balance with a sense of well-being, clarity, and peace of mind. We will give you the tools in the business of yoga and how to apply the principles of yoga to your daily life.

Hot 8 Yoga is a Registered Yoga School (RYS) with Yoga Alliance and meets the Yoga Alliance training standards for a 200 hour training. All graduates of a RYS are eligible to register with Yoga Alliance as a 200 hour Registered Yoga Teacher (RYT).

Training cost $3,200
ALL 2018 trainings; $3,900-excluding 300 hour program.

9/8/ 2018 - 11/11/2018

Wednesdays 6:00pm-9:00pm
Saturdays 11:00am-6:00pm
Sundays 11:00am-6:00pm

FOR MORE INFORMATION PLEASE EMAIL: devon@hot8yoga.com or call 626-463-0200 *space is limited




This intermediate vinyasa-style class guides students through more advanced postures and creative sequencing. Power links breath to movement and may include arm-balances, inversions and twists to stretch and strengthen the body. Accompanied by music.