Nicole A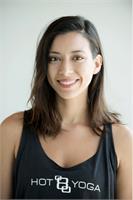 Born and raised in Miami, FL. Her love for yoga began when she first moved to Los Angeles in the summer of 2011. After landing at Hot 8 Yoga, she immediately fell in love and quickly became a part of the Hot 8 Yoga community. As a young child that grew up physically active, she believes that it wasn't until she found yoga that she truly understood how to feel comfortable in her own body. The combination of both the physical and the spiritual connection she felt was what got her attention. She was able to apply the lessons she learned in the yoga room both on and off her mat! Always in search for improvement and self discovery, Nicole decided to embark on the journey of becoming a yoga teacher. She completed her 200 hour certification and since then has been dedicated to create a safe space for other people to connect with their spiritual power, feel comfortable in their bodies, and just have fun!
Nicole A instructs the following:
This foundational class connects breath to movement (vinyasa) and focuses on proper alignment to set students up for success in all styles offered at Hot 8 Yoga. The temperature is set at a lower level to help acclimate students to the heat. Power 1 is an excellent full body strengthening class for both new and experienced students to learn any necessary modifications to improve their practice.




New to meditation? This is the perfect place to start. Become more relaxed, efficient, and compassionate in just 15 minutes. This silent practice is conducted in a group setting for a more powerful experience of deepening your collective awareness.




This intermediate vinyasa-style class guides students through more advanced postures and creative sequencing. Power links breath to movement and may include arm-balances, inversions and twists to stretch and strengthen the body. Accompanied by music.