Rachel E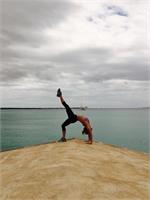 From a young age Rachel has always been interested in movement. As a child she was a gymnast, preferring to cartwheel instead of walk. When a shoulder injury took her out of the gymnastics world she turned to what seemed to be the next logical step, dance. Trained in all technical styles, she competed and performed in contemporary and modern dance until the age of 18. During high school she was introduced to Vinyasa Yoga through a dance teacher and found the combination of movement, breath, and spirituality exhilarating and challenging.
While studying at the University of Miami, Coral Gables, she used yoga as a way to relieve stress and stay fit. After graduating from college Rachel worked in brand marketing for five years. During that time she felt as though something was missing and was always happiest on her mat. After some soul-searching she decided it was time to leave the corporate world, take the plunge and re-dedicate her life to movement. Rachel's classes are accessible to all levels from beginners to advanced practitioners. Expect to sweat, breathe, and move to some good tunes!
Rachel E is currently not instructing any classes.