Tessa R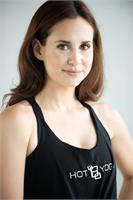 Tessa Rapaczynski's approach to yoga is pluralistic and non-dogmatic. While her practice is rooted in the Ashtanga and Iyengar yoga traditions, her methodology is influenced by modern science, as well as both Eastern and Western philosophy.
Tessa believes that yoga is a practice of self-study by experience, and considers herself a life-long student. Introduced to yoga at a young age, she has practiced over the years at studios in NYC, London, Berlin, and LA where Tessa completed her 200 Hour Teacher Training course at Hot 8 Yoga. She is a graduate of Columbia University, and holds an MA in Modernist English Literature from Oxford.
Tessa R instructs the following:



This Vinyasa-style flow class designed for beginners features a set sequence. Pairing breath with movement, Hot Power 1 is meant to help integrate the mind/body connection. It is a whole body strengthening practice that includes Sun Salutations, standing postures, simple arm balances, core strengthening, backbends, hip-openers, basic inversions, and restorative postures. Hot Power 1 is an excellent class for both new and old students to learn proper yoga alignment and any necessary modifications. Heated to 100-105 degrees.




This hour-long, shoulder-friendly class focuses on strengthening without chaturangas (high to low push-ups). A balanced mix of both our Hot Yoga and Power Yoga styles, HPF will both restore and revitalize your muscles. It includes standing postures, core work, deep hip openers, and inversions. All levels welcome. Heated to 105-109 degrees.