Annie P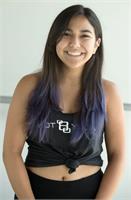 Born and raised in sunny California, Annie has always called LA her home. For years, fitness has been a part of her life. She enjoyed running and going to the gym before yoga. She started doing yoga at the age of 16. Her first class at Hot 8 Yoga was Yoga Barre in Santa Monica. After practicing for 4 years, she decided to do the Barre Teacher Training in February, followed by Mentorship before she was hired. She continues practicing yoga to control her anxiety and to involve herself with the loving Hot 8 Yoga community.
Annie P instructs the following:
This class is a dynamic fusion of barre work, light weights, non-impact cardio and yoga designed for developing long and lean muscles. By activating small muscles groups this class provides cross training and aids in injury prevention and recovery. Yoga Barre is a high energy class and is excellent for anyone looking to tone legs, booty, core, and arms to upbeat music.




Yoga Barre $8 Community Classes taught by our recent graduates!

A dynamic fusion of yoga, body sculpting, barre work, and non-impact cardio that will get you long and lean. Yoga Barre is inspired by the revolutionary exercise routine developed in London by the world-famous modern dancer, Lotte Berk and her orthopedist. This class is a cardiovascular program of isometric exercises and orthopedic stretches designed to improve your posture and form a sculpted physique. Intermediate level class; temp 104-109

**Must purchase the $8 Community class at the studio. It is not available online.


All who have 10 class packages will need to purchase the $8 class separately from your current package.

Those with memberships and yearly contracts, this class will be deducted from your current membership. It is included in the membership.