Annie P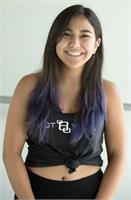 Born and raised in sunny California, Annie has always called LA her home. For years, fitness has been a part of her life. She enjoyed running and going to the gym before yoga. She started doing yoga at the age of 16. Her first class at Hot 8 Yoga was Yoga Barre in Santa Monica. After practicing for 4 years, she decided to do the Barre Teacher Training in February, followed by Mentorship before she was hired. She continues practicing yoga to control her anxiety and to involve herself with the loving Hot 8 Yoga community.
Annie P instructs the following:
This class is a dynamic fusion of barre work, light weights, non-impact cardio and yoga designed for developing long and lean muscles. By activating small muscles groups this class provides cross training and aids in injury prevention and recovery. Yoga Barre is a high energy class and is excellent for anyone looking to tone legs, booty, core, and arms to upbeat music.