Laurel E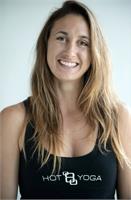 Laurel Erilane grew up as a competitive athlete who constantly pushed her body to its limit. She first discovered yoga at age fifteen as an alternative therapy to sports when several injuries prevented her from playing with such intensity. She now recognizes yoga as a life long practice which has guided her to travel, live and teach internationally. Her yogic roots stem from the Mukti School of Yoga, with a YA E-RYS 500 Hr certification. Laurel's teaching style emphasizes proper anatomical alignment through both classical and modern variations, incorporating the union of breath and fluid movement as a guided meditation. She believes that every time you step on to the mat is an opportunity to deepen your sense of self, and learn more about finding your own personal peace. As every day presents new challenges, we must first do the work on ourselves, in order to uplift others around us.
Laurel E instructs the following:
This intermediate vinyasa-style class guides students through more advanced postures and creative sequencing. Power links breath to movement and may include arm-balances, inversions and twists to stretch and strengthen the body. Accompanied by music.




This slow-moving class targets connective tissue through seated and lying postures held for long periods of time with the use of blocks and straps. Yin compliments the more active classes offered at Hot 8 Yoga by increasing circulation in the joints and improving flexibility. This practice is perfect for all levels and those recovering from injury.