Anna B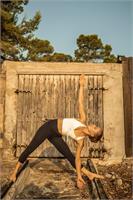 Anna Bek is a yogi, DJ, and storyteller with a nomadic spirit who believes in cultivating positive habits to turn routine into ritual. She helps bring people back into their natural rhythms through sacred movement, ancient philosophies, self-care, and sound. Her soundscapes both motivate the movement and help realign specific chakra points. Each session with her is tuned to a unique rhythm and intended to connect like-minded beings to elevate consciousness and inspire change.
She received her 200 hour YTT in 2010 at Montezuma Yoga in Costa Rica with Angela Boltz and Dagmar Spremberg. Through Hot 8 Yoga, she was certified in Yoga Barre in 2013 with Nancy Norby and Yin Yoga in 2016 with Rebekah Rivera. In May of 2018, she completed her 300 hour YTT with the Kula Collective in Bali.
Check www.annabek.com for more info and follow @missannabek on IG.
Anna B is currently not instructing any classes.