Anna B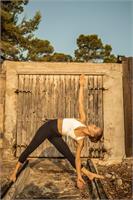 Anna Bek is a yogi, DJ, and storyteller with a nomadic spirit who believes in cultivating positive habits to turn routine into ritual. She helps bring people back into their natural rhythms through sacred movement, ancient philosophies, self-care, and sound. Her soundscapes both motivate the movement and help realign specific chakra points. Each session with her is tuned to a unique rhythm and intended to connect like-minded beings to elevate consciousness and inspire change.
She received her 200 hour YTT in 2010 at Montezuma Yoga in Costa Rica with Angela Boltz and Dagmar Spremberg. Through Hot 8 Yoga, she was certified in Yoga Barre in 2013 with Nancy Norby and Yin Yoga in 2016 with Rebekah Rivera. In May of 2018, she completed her 300 hour YTT with the Kula Collective in Bali.
Check www.annabek.com for more info and follow @missannabek on IG.
Anna B instructs the following:
This breath to movement class that combines free weights with yoga and cardio to increase stamina and strength. Sculpt is a total body workout designed to sculpt and define every major muscle group. This class is high energy with upbeat music.




Rhythmic-based power class in which sequences are executed to various tempos and intensities. Each class is accompanied with its own carefully crafted playlist and theme. At its peak, the sequence is linked to the beat of the music challenging balance, core strength, endurance and stamina. Candles, dim lights and soulful sounds set the vibe for the class. In this challenging tempo-based class, expect less alignment cues and some fast paced movement to music to help remain grounded in your experience. Class created by Omar Lopez.




This class is a dynamic fusion of barre work, light weights, non-impact cardio and yoga designed for developing long and lean muscles. By activating small muscles groups this class provides cross training and aids in injury prevention and recovery. Yoga Barre is a high energy class and is excellent for anyone looking to tone legs, booty, core, and arms to upbeat music.




This intermediate vinyasa-style class guides students through more advanced postures and creative sequencing. Power links breath to movement and may include arm-balances, inversions and twists to stretch and strengthen the body. Accompanied by music.