Alizah S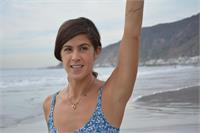 Alizah S instructs the following:
This hour-long, shoulder-friendly class focuses on strengthening without chaturangas (high to low push-ups). A balanced mix of both our Hot Yoga and Power Yoga styles, HPF will both restore and revitalize your muscles. It includes standing postures, core work, deep hip openers, and inversions. All levels welcome. Heated to 105-109 degrees.




INVIGOR8 MEDITATION will ease you into your day with this energizing 15 minute practice. Dhyana (Meditation) is the 7th limb or step of yoga, from the 8 Limbs of Yoga, where Hot 8 Yoga gets its name. Meditation helps deepen your awareness and helps you start assisting in positive thinking patterns so that you leave class refreshed for the rest of your day. All levels welcome. Low heat. $8 per class, included in all memberships.




Hot Power Fusion $8 Community class taught by our recent graduates!

This shoulder friendly distinctive class is a combination of Hot Yoga and Power Yoga without the Chaturangas. Hot Power Fusion blends the therapeutic benefits of Hot Yoga and strengthening aspects of Power that is accessible for all levels; temp 105-109


**Must purchase the $8 Community class at the studio. It is not available online.
All who have a 10 class package will need to purchase the $8 class separately from your current package.

Those with memberships and yearly contracts, this class will be deducted from your current membership. It is included in your membership.