Milena S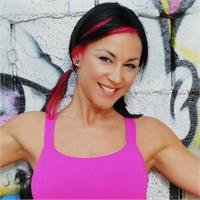 Milena developed a dedicated yoga practice in 2005 where she began to immediately notice the positive influence it brought to her life. She decided to leave her full time career in marketing to teach yoga full time in 2007 in order to share this gift with others.
Milena is an experienced yoga instructor who has had opportunities in teaching various styles of yoga and fitness including Hot Yoga, Power, Sculpt, Vinyasa Flow, Ashtanga and Restorative Yoga. She teaches in the Los Angeles area and has a wide range of students of all levels and backgrounds. "My goal as a teacher is to inspire my students to understand the mind-body-soul connection and to bring more joy into life."
Milena brings a light-hearted and compassionate quality to her fun, yet intense classes.
Milena S instructs the following:
This high-intensity, vinyasa-style flow class incorporates small hand weights and cardio to burn fat and build lean muscle mass. This power-up session builds strength, stamina, and flexibility. Free weights serve as your own personal adjuster as you move through Sun Salutations in a vinyasa-style class, enabling extra length and depth in each pose. Designed for intermediate levels in a room heated to 100-105 degrees.




INVIGOR8 MEDITATION will ease you into your day with this energizing 15 minute practice. Dhyana (Meditation) is the 7th limb or step of yoga, from the 8 Limbs of Yoga, where Hot 8 Yoga gets its name. Meditation helps deepen your awareness and helps you start assisting in positive thinking patterns so that you leave class refreshed for the rest of your day. All levels welcome. Low heat. $8 per class, included in all memberships.




This hour-long, shoulder-friendly class focuses on strengthening without chaturangas (high to low push-ups). A balanced mix of both our Hot Yoga and Power Yoga styles, HPF will both restore and revitalize your muscles. It includes standing postures, core work, deep hip openers, and inversions. All levels welcome. Heated to 105-109 degrees.




A Vinyasa-style dynamic flow class, Hot Power Yoga uses breath as the primary link between attentiveness and integration of the mind and body. Hot Power Yoga is an intense practice that will flow you through strengthening postures throughout the entire class. This practice is meant to detoxify the body and burn calories through movement, breath, and heat. Designed for intermediate to advanced levels. Heated to 105-109 degrees.