Ryan O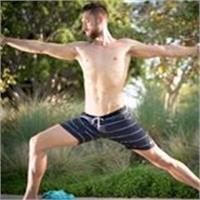 Born and raised in Tucson Arizona, Ryan moved to the Los Angeles area for nothing more than a change of scenery. After many fitness ventures and needing a change, he stumbled upon hot yoga and never looked back. Falling in love with the Vinyasa style and movement of yoga classes, Ryan is inspired by the movement and energy that all various forms of classes have to offer. Utilizing an empowering approach to teaching yoga classes, Ryan incorporates high energy movement and music to go along with it. Get ready to work hard, sweat, and flow with Ryan's classes.
Ryan O instructs the following:
This high-intensity, vinyasa-style flow class incorporates small hand weights and cardio to burn fat and build lean muscle mass. This power-up session builds strength, stamina, and flexibility. Free weights serve as your own personal adjuster as you move through Sun Salutations in a vinyasa-style class, enabling extra length and depth in each pose. Designed for intermediate levels in a room heated to 100-105 degrees.