Ursula W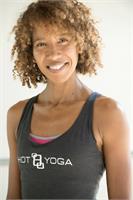 Ursula's personal fitness philosophy is that every group workout should be held slumber-party style; grab all your besties, crank up the music, sweat it out, and just have epic fun!
Certified by AFAA, Zumba, Turbo-Kick, and the Sphota Yoga School, Ursula provides a well-rounded hour of multi-disciplined technique and guidance. Ursula's main passion is that every participant leaves the class feeling encouraged, successful, and confident to conquer their next workout! Let's DO this!
Ursula W instructs the following:
This class is a dynamic fusion of barre work, light weights, non-impact cardio and yoga designed for developing long and lean muscles. By activating small muscles groups this class provides cross training and aids in injury prevention and recovery. Yoga Barre is a high energy class and is excellent for anyone looking to tone legs, booty, core, and arms to upbeat music.