Ursula W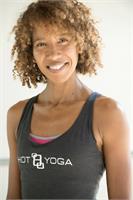 Ursula's personal fitness philosophy is that every group workout should be held slumber-party style; grab all your besties, crank up the music, sweat it out, and just have epic fun!
Certified by AFAA, Zumba, Turbo-Kick, and the Sphota Yoga School, Ursula provides a well-rounded hour of multi-disciplined technique and guidance. Ursula's main passion is that every participant leaves the class feeling encouraged, successful, and confident to conquer their next workout! Let's DO this!
Ursula W is currently not instructing any classes.