Ursula W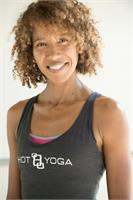 Ursula's personal fitness philosophy is that every group workout should be held slumber-party style; grab all your besties, crank up the music, sweat it out, and just have epic fun!
Certified by AFAA, Zumba, Turbo-Kick, and the Sphota Yoga School, Ursula provides a well-rounded hour of multi-disciplined technique and guidance. Ursula's main passion is that every participant leaves the class feeling encouraged, successful, and confident to conquer their next workout! Let's DO this!
Ursula W instructs the following:
Hot Yoga Barre is a dynamic fusion of yoga, body sculpting, barre work, and non-impact cardio designed for developing long and lean muscles. This hour-long class is packed with toning exercise that sculpt the buttocks, abdominals, thighs, and arms. The class is filled with strengthening postures at the barre working legs and abdominals fused with yoga postures on the mat to release and lengthen from the barre work. It will also improve your posture and form a sculpted physique. Hot Yoga Barre is an intermediate level class practice in a room heated to 104-109 degrees.