Mike A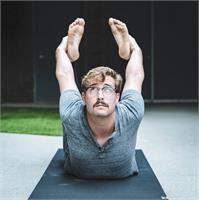 Mike was born and raised in Colorado. Having been a gymnast for much of his young life, investigating the mind-body connection has long been a passion. Yoga cemented a place in Mike's life initially as a way to manage stress, but grew into a much deeper exploration of the human experience. Mike hopes to inspire this same curiosity for life in others.
Mike completed his 200 hour Yoga Alliance certification under the guidance of Francesca Asumah, is in the process of receiving his 500 hour certification, and has also trained with Julia Planine-Troiani, Deanna Ainsworth, Rebekah Rivera, Brit Middleton, Cornelius Jones Jr., and Jonatan Silva, among others.
IG: mmaverill
Mike A instructs the following:
This class is a 60 minute set sequence of 26 postures and 2 breathing exercises. There are 2 sets of the standing series and 1 set of the floor series. Class is composed of a standing series followed by a floor series where each posture is done twice. Through discipline and structure, this class allows students to gain strength, flexibility and balance. Conducted without music, 26 & 2 assists in developing the concentration needed for meditation and proper alignment.




This set series is an hour-long, shoulder and wrist-friendly class without chaturangas (high to low push-ups) that combines the 26 & 2 and Power Yoga styles. Hot Power Fusion includes balancing, core work, hip openers and inversions accompanied by music, encouraging mindful focus and detoxification.




Please join us for our upcoming Hot Power Fusion Training Open House.


Meet the trainers Deanna Ainsworth and Mike Averill, for Q&A.

Discover how this training can transform your life and/or start a career in teaching!

Learn about the 200 Hour Yoga Alliance approved Teacher Training program.

Sign up here to RSVP.

**Register at the Open House and receive $100 off!

Phone: 310-866-5280




This foundational class connects breath to movement (vinyasa) and focuses on proper alignment to set students up for success in all styles offered at Hot 8 Yoga. The temperature is set at a lower level to help acclimate students to the heat. Power 1 is an excellent full body strengthening class for both new and experienced students to learn any necessary modifications to improve their practice.