Mike A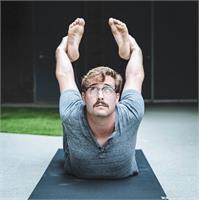 Mike was born and raised in Colorado. Having been a gymnast for much of his young life, investigating the mind-body connection has long been a passion. Yoga cemented a place in Mike's life initially as a way to manage stress, but grew into a much deeper exploration of the human experience. Mike hopes to inspire this same curiosity for life in others.
Mike completed his 200 hour Yoga Alliance certification under the guidance of Francesca Asumah, and has also trained with Deanna Ainsworth, Rebekah Rivera, Brit Middleton, Cornelius Jones Jr., and Jonatan Silva, among others.
Mike A instructs the following:
This Vinyasa-style flow class designed for beginners features a set sequence. Pairing breath with movement, Hot Power 1 is meant to help integrate the mind/body connection. It is a whole body strengthening practice that includes Sun Salutations, standing postures, simple arm balances, core strengthening, backbends, hip-openers, basic inversions, and restorative postures. Hot Power 1 is an excellent class for both new and old students to learn proper yoga alignment and any necessary modifications. Heated to 100-105 degrees.




This hour-long, shoulder-friendly class focuses on strengthening without chaturangas (high to low push-ups). A balanced mix of both our Hot Yoga and Power Yoga styles, HPF will both restore and revitalize your muscles. It includes standing postures, core work, deep hip openers, and inversions. All levels welcome. Heated to 105-109 degrees.




Come and ask questions about the upcoming, Yoga Alliance certified Teacher Training!!

Training occurs from September 9th to November 12th with Mike Averill, Janelle Johnson, and Aine O'Regan. The 10 week long program goes deep into yoga philosophy, anatomy, intelligent sequencing, and much more.