Dario T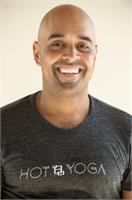 Dario Torres has been involved with organized athletic fitness and training since his High School Varsity Basketball days. He played D. III collegiate basketball of a while, then got into fitness & wellness training. He recently has been certified by NASM (National Academy of Sports Medicine), to be a Personal Trainer and has a great love & affinity for yoga. He also loves bike riding, doughnuts, haiku's, and sipping pina coladas while getting caught in the rain.
Dario T instructs the following:
Hot 8 Extreme is a fusion of resistance training, high intensity aerobics, vinyasa movements and stretching. It targets strength building and muscular endurance. The time between exercises in circuit training is short, often with rapid movement to the next exercise. The yoga helps to calm the mind and body as well as create flexibility with strength. Heated to 95-100 degrees. Grip or toe socks recommended but not required.