Kari J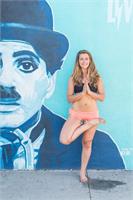 Kari is a vibrant, tenacious, and gregarious teacher. She has been teaching yoga since 2013, receiving various certificates over multiple lineages. While Kari teaches nearly 30 public classes a month, she has also brought her vast experience to health and wellness retreats, mindfulness workshops, the festival community, corporate offices, professional athletes and many private clients. She is also the creator of a local after school yoga program, Practice not Perfect, serving ages 5-15, which is coming up on its fifth year!
Ever the student, Kari is always searching and striving to learn more, so she can be the most effective teacher possible. Her style of teaching is mechanical and super anatomically driven. However, above all, she stands behind breath as the ultimate guide. It's always breath first, form second, and the two together will unlock the magic of your practice. Kari is extremely compassionate, she keeps it effortlessly real with humor, laughter and a little bit of Jersey. She has a deep understanding that in this human experience we're all in it together.
As a student who remains forever interested in her practice, she requires that same inquisitiveness from the people who honor her with the duty of teaching them.
Kari J instructs the following:
This set series is an hour-long, shoulder and wrist-friendly class without chaturangas (high to low push-ups) that combines the 26 & 2 and Power Yoga styles. Hot Power Fusion includes balancing, core work, hip openers and inversions accompanied by music, encouraging mindful focus and detoxification.




This intermediate vinyasa-style class guides students through more advanced postures and creative sequencing. Power links breath to movement and may include arm-balances, inversions and twists to stretch and strengthen the body. Accompanied by music.