Camille W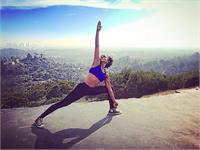 Hi I'm Camille, I have a deep love for helping people live better in their bodies. My journey began 13 years ago as a student and 2 years ago in service as a teacher (200 hr RYT).
To me yoga is life; a self exploratory, self-healing journey within, enabling us to tap into the vast pool of frequencies inside and out. Yoga sent me on a path of self-discovery and opened a portal straight to my heart.
The gentleness that practicing has on the mind & body, is soul food. Namasté
Camille W instructs the following:
This 90 minute set sequence of 26 postures and 2 breathing exercises. Class is composed of a standing series followed by a floor series where each posture is done twice. Through discipline and structure, 26 & 2 allows students to gain strength, flexibility and balance. Conducted without music, 26 & 2 assists in developing the concentration needed for meditation and proper alignment.