Stephanie E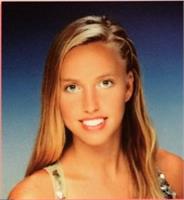 Meet Stephanie!
Stephanie grew up in Sacramento, CA where she started her swim career at the age of 6 years old. Since then, she has found her way down to southern California where she competed on the Swim/Dive team at Pepperdine University as well as earned her degree in Sports Medicine. Even after graduation, Stephanie still finds herself in the water; this time on the beach as an LA County Lifeguard. She is also continuing her education and is aspiring to become a Doctor of Acupuncture and Herbal Medicine.
Among swimming and her studies in medicine, Stephanie, 1. Loves to workout and 2. Loves to DANCE! She became passionate for Yoga Barre once she saw how this class was able to combine the two together. Since starting her practice, Stephanie has seen improvement on her allover athletic performance and a transformation in her physique. Stephanie received her Yoga Barre teacher training certification with Nancy Norby. Stephanie's Barre classes are filled with fun and energetic music that makes you want to move that body. So get ready to move to the beat of the music!
Stephanie E instructs the following:
This class is a dynamic fusion of barre work, light weights, non-impact cardio and yoga designed for developing long and lean muscles. By activating small muscles groups this class provides cross training and aids in injury prevention and recovery. Yoga Barre is a high energy class and is excellent for anyone looking to tone legs, booty, core, and arms to upbeat music.