Carli K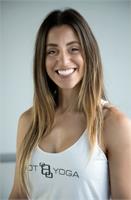 Native to Sunny Southern California, Carli grew up living an active lifestyle. It wasn't long before she developed a love for yoga sculpt. Carli started teaching Yoga Sculpt 2 years ago and has been practicing for 5 year. As yoga transformed her life, she wanted to inspire others with its gift. Yoga's teachings have brought connection between mind and body awareness, peace of mind, and the feeling of being grounded into her life. Always open to growing and connecting, Carli continues to inspire, be inspired by her students and practice.
Carli K instructs the following:
This breath to movement class that combines free weights with yoga and cardio to increase stamina and strength. Sculpt is a total body workout designed to sculpt and define every major muscle group. This class is high energy with upbeat music.




New to meditation? This is the perfect place to start. Become more relaxed, efficient, and compassionate in just 15 minutes. This silent practice is conducted in a group setting for a more powerful experience of deepening your collective awareness.