Carli K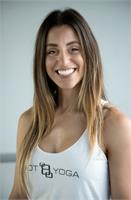 Native to Sunny Southern California, Carli grew up living an active lifestyle. It wasn't long before she developed a love for yoga sculpt. Carli started teaching Yoga Sculpt 2 years ago and has been practicing for 5 year. As yoga transformed her life, she wanted to inspire others with its gift. Yoga's teachings have brought connection between mind and body awareness, peace of mind, and the feeling of being grounded into her life. Always open to growing and connecting, Carli continues to inspire, be inspired by her students and practice.
Carli K instructs the following:
This high-intensity, vinyasa-style flow class incorporates small hand weights and cardio to burn fat and build lean muscle mass. This power-up session builds strength, stamina, and flexibility. Free weights serve as your own personal adjuster as you move through Sun Salutations in a vinyasa-style class, enabling extra length and depth in each pose. Designed for intermediate levels in a room heated to 100-105 degrees.




INVIGOR8 MEDITATION will ease you into your day with this energizing 15 minute practice. Dhyana (Meditation) is the 7th limb or step of yoga, from the 8 Limbs of Yoga, where Hot 8 Yoga gets its name. Meditation helps deepen your awareness and helps you start assisting in positive thinking patterns so that you leave class refreshed for the rest of your day. All levels welcome. Low heat. $8 per class, included in all memberships.