Daniel M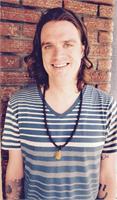 Dan began practicing hot yoga in Chicago five years ago to address issues with anxiety and get in better physical shape. He found yoga to be much more effective than any medical intervention and gradually began practicing more frequently. Shortly after moving to Los Angeles in 2015, Dan discovered Hot 8, taking advantage of the opportunity to expand his practice into many different styles. In the Spring of 2016 he completed the 200 hour hot yoga teacher training under Deanna Ainsworth in Santa Monica and is excited to be a part of the Hot 8 community. Dan believes in maintaining a beginners mind and treating yoga practice as a lifelong journey. He also sees yoga as the perfect compliment to his other passion, music.
Daniel M instructs the following:
This hour-long, shoulder-friendly class focuses on strengthening without chaturangas (high to low push-ups). A balanced mix of both our Hot Yoga and Power Yoga styles, HPF will both restore and revitalize your muscles. It includes standing postures, core work, deep hip openers, and inversions. All levels welcome. Heated to 105-109 degrees.




Foundations 1 What is Yoga? is one of the workshops designed to demystify 'What is Yoga'. We will explore foundational postures and introduce yoga philosophy. This 4 week series sets the foundation for a successful yoga practice. It can be attended out of order and is designed for those who are new to yoga or have practiced for some time and are looking for a deeper understanding. You will learn the foundations of alignment, modifications, breath, yogic philosophy and touch upon meditation. This program is accessible to all in a fun supportive environment. Come learn about the 8 Limbs of Yoga and take your practice to the next level!