Ava M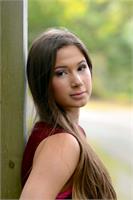 Ava Moreno entered the yoga and fitness community through her first love: dance. She began her dance training as a toddler, training in all forms of dance. After having struggled with a severe eating disorder when she began her professional dance career at age 16, Ava found Colleen Quinn, an incredible mentor and inspiration to her through the form of a personal trainer. Ava has also struggled with several injuries in dance due to her hypermobility, including a medial patellofemoral ligament knee reconstruction at age 20, leading her to look into deeper ways of understanding and helping her body. Although Ava had first been introduced to yoga at age 11 through dance, it was not until she entered recovery from her eating disorder that she began practicing regularly, discovering the peace, focus, and stability--both physically and mentally--it brought her. Throughout her recovery, Ava studied nutrition and began to explore the yoga, fitness, and wellness world.
Inspired by her trainer, Colleen, Ava went on to receive her personal training certification through the National Academy of Sports Medicine. Shortly after, at the age of 20, she completed her RYT 200-hour yoga teacher training with David Vendetti and Todd Skoglund of South Boston Yoga in 2014. Her training certified her through Yoga Alliance in vinyasa, restorative, and prenatal yoga. Ava is passionate about helping others find their own physical, mental, and emotional strength through physical movement. Yoga and personal training are her methods of doing so, with her background and current career in dance as an advantage. Ava is always eager to learn more from those around her, including her clients and students. She understands that each student and client has a different body, with a different structure, which affects not only movement and range of motion, but also the movement pathways the body takes. Ava's philosophy for her teaching and training is to recognize and tap into your own individual needs as a student to be able to find a balance of push and pull, challenge and ease, and growth and grounding.
Ava moved to Los Angeles in March 2016 to pursue her passions of dance, yoga and fitness. When she found Hot 8 Yoga and her incredible mentors Jonatan Silva and Briana DeFalco, she knew she knew she found the perfect environment to blend her worlds and reach others at the same time. Ava is thrilled and humbled to be working with and along side such inspiring teachers and students, and is excited to share her passion in the studio!
Ava M instructs the following:
This class is a dynamic fusion of barre work, light weights, non-impact cardio and yoga designed for developing long and lean muscles. By activating small muscles groups this class provides cross training and aids in injury prevention and recovery. Yoga Barre is a high energy class and is excellent for anyone looking to tone legs, booty, core, and arms to upbeat music.




This slow-moving class targets connective tissue through seated and lying postures held for long periods of time with the use of blocks and straps. Yin compliments the more active classes offered at Hot 8 Yoga by increasing circulation in the joints and improving flexibility. This practice is perfect for all levels and those recovering from injury.




Rhythmic-based power class in which sequences are executed to various tempos and intensities. Each class is accompanied with its own carefully crafted playlist and theme. At its peak, the sequence is linked to the beat of the music challenging balance, core strength, endurance and stamina. Candles, dim lights and soulful sounds set the vibe for the class. In this challenging tempo-based class, expect less alignment cues and some fast paced movement to music to help remain grounded in your experience. Class created by Omar Lopez.




This intermediate vinyasa-style class guides students through more advanced postures and creative sequencing. Power links breath to movement and may include arm-balances, inversions and twists to stretch and strengthen the body. Accompanied by music.




Foundations 3 Posture Breakdown is our intro to Anatomy portion of Foundations. We will explore foundational postures of the Power 1 sequence and benefits of these postures.

This 4 week series sets the foundation for a successful yoga practice. It can be attended out of order and is designed for those who are new to yoga or have practiced for some time and are looking for a deeper understanding. You will learn the foundations of alignment, modifications, breath, yogic philosophy and touch upon meditation. This program is accessible to all in a fun supportive environment. Come learn about the 8 Limbs of Yoga and take your practice to the next level!