Stevie R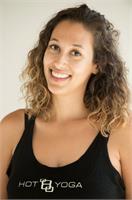 Stevie has been actively practicing yoga since 2003. While studying theater at the University of Maryland, her voice for actor's teacher introduced the power of asana and pranayama to release tension. It was love at first breath. In 2013 after moving from New York to Los Angeles, Stevie found herself needing to ground down and committed to her practice. Encouraged by support of her family and friends Stevie signed up for Power Yoga Teacher Training in the spring of 2014 and completed Sculpt and Hot Power Fusion training in the spring of 2015. Yoga has enhanced her life by giving her the space to connect to her true self, her inner strength, through the exploration of the practice. Stevie continues to be passionate about learning everything she can about yoga and most importantly sharing it with others.
Stevie R instructs the following:
This set series is an hour-long, shoulder and wrist-friendly class without chaturangas (high to low push-ups) that combines the 26 & 2 and Power Yoga styles. Hot Power Fusion includes balancing, core work, hip openers and inversions accompanied by music, encouraging mindful focus and detoxification.