Daniela A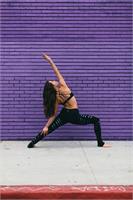 Daniela started practicing yoga as a way to release after an extremely stressful job, and quickly became hooked. It became less about de-stressing and more about practicing yoga as a way to stay connected to mind, body and soul. A few years later, with a desire to deepen her practice and teach others, she enrolled in the 200-Hour Yoga Teacher certification at Hot 8 Yoga in Santa Monica.
Now she hopes to inspire those around her to seek a fun and healthy lifestyle. Her passion for the practice, as not only an exercise but a way of living, becomes clear in her teaching. Her classes challenge physical and mental awareness by getting you out of your mind and into your body. As she continues to grow and learn from her teachers and mentors, her purpose is to encourage others to practice yoga to go through life with a deeper sense of gratification and to become empowered, as she has, by doing something that you love!
Daniela A is currently not instructing any classes.