Aine O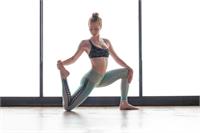 "Like a wildflower, she spent her days allowing her self to grow, not many knew of her struggle; but eventually all knew of her light."
An LA native, born and raised in the Studio City area, Áine has always lived a healthy active lifestyle. From playing soccer for twelve years to running Track and Field for five, athletics is part of who she is. When the CorePower Yoga in Sherman Oaks first opened, she came in with her best friend wanting to try something new. Áine started her yoga journey not really expecting much, but instead found, love, community, and a purpose. As she and her practice continued to grow, so did her love and passion for yoga. In 2013, she enrolled in the Hot Power Fusion Teacher Training and never looked back. Since then, she has completed Power Teacher Training, Level Two Training and lastly finished Sculpt Teacher Training and C1.5/C2 training in 2015. Her classes are energetic, fun, and grounding. Áine's goal is for her students to leave their mat feeling relaxed, clear headed, inspired, as well as challenged. Most importantly, she aspires to help students have fun exploring their true self and connect the mind, body, and spirt so what they learn on the mat travels with them in their daily adventures. Áine can not wait to share her love, passion, and knowledge to those around her!
Aine O instructs the following:
This high-intensity, vinyasa-style flow class incorporates small hand weights and cardio to burn fat and build lean muscle mass. This power-up session builds strength, stamina, and flexibility. Free weights serve as your own personal adjuster as you move through Sun Salutations in a vinyasa-style class, enabling extra length and depth in each pose. Designed for intermediate levels in a room heated to 100-105 degrees.




This hour-long, shoulder-friendly class focuses on strengthening without chaturangas (high to low push-ups). A balanced mix of both our Hot Yoga and Power Yoga styles, HPF will both restore and revitalize your muscles. It includes standing postures, core work, deep hip openers, and inversions. All levels welcome. Heated to 105-109 degrees.