Kimi C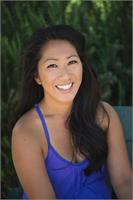 Kimi's passion for yoga began when she first stepped on the mat in 2011. The combination of mind and body awareness became a very therapeutic experience for her and she has been practicing ever since. To deepen her practice she attended Yoga Works' 200-hour training. Upon completion, she realized she wanted to pursue a career in health and wellness. Her classes are heavily rooted in form, breath, philosophy and most importantly, fun. She absolutely loves seeing her students grow and she is constantly inspired by their strength and dedication. When she's not practicing, she can be found riding her bike, walking her dog, or catching up with a friend over coffee.
Kimi C instructs the following:
This high-intensity, vinyasa-style flow class incorporates small hand weights and cardio to burn fat and build lean muscle mass. This power-up session builds strength, stamina, and flexibility. Free weights serve as your own personal adjuster as you move through Sun Salutations in a vinyasa-style class, enabling extra length and depth in each pose. Designed for intermediate levels in a room heated to 100-105 degrees.




Hot Yoga Barre is a dynamic fusion of yoga, body sculpting, barre work, and non-impact cardio designed for developing long and lean muscles. This hour-long class is packed with toning exercise that sculpt the buttocks, abdominals, thighs, and arms. The class is filled with strengthening postures at the barre working legs and abdominals fused with yoga postures on the mat to release and lengthen from the barre work. It will also improve your posture and form a sculpted physique. Hot Yoga Barre is an intermediate level class practice in a room heated to 104-109 degrees.